Home
Featured Customer: BE Pressure
BE Pressure BE Pressure is a Canadian company in the manufacturing industry who sells items such as generators, heaters and pressure washers to wholesalers and distributors in Canada and the US.
The Issue: The company needed a way to sell their items through their network and to showcase regional inventory, pricing and item availability in both Canada the US.
The Solution: Nomad built three different websites and a Site Locator on BE Pressure's homepage. This feature enabled BE Pressure to deliver accurate site information to the customer searching the site based on the location of the region they clicked on when entering the website.
Project
B2B and B2C storefront
Deliverables
Catalog Management, Customer Portal and eCommerce website integrated with SYSPRO, UI design
Website

What is Nomad?
Nomad eCommerce - Leader in B2B Commerce - is a Content Management System, Catalog Managment and eCommerce shopping cart application built to integrate with virtually any enterprise resource planning (ERP) solution, resulting in one set of complete and accurate information. Nomad means:
Why Nomad?
Nomad as your web CMS solution will automate your customer service to your site, allowing your site to provide 24/7 customer service to your customers and salesperson(s). Give your customers up to date web access to your price lists, product catalog, inventory availability, shipping estimates and order statuses, all automated from your backoffice.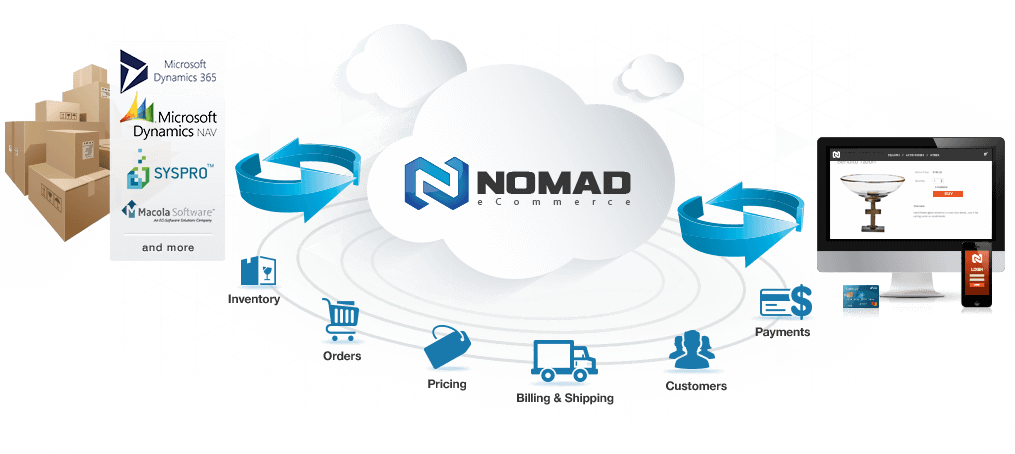 You'll Get:
A complex pre-calculated pricing algorithm table for all your pricing needs
Multiple prices can be shown on a per-customer basis
Easy-to-use online ordering experience
Seamless data sharing with Microsoft Dynamics
Customer portal featuring important order information
Analytics to drive sales visibility
Direct connection with your database of product and business information
Rich information displayed on your customer-facing eCommerce that helps set you up for SEO success